Verify Your Version 4.0 Setup Folder
All LIMS version 4.0 installations should maintain a current Setup folder, which contains all files required to install LIMS on a workstation. Maintaining a proper Setup folder allows easy installation repair, installation on new workstations, and simple subscription updates for Annual Subscription licensees.
In a default single-workstation installation, the Setup folder will be found within folder C:\-LIMS. In a multi-user installation, the Setup folder is normally found within the server folder where your LimsData4.mdb database resides. See the bottom of the LIMS main menu for the location of your LimsData4 database. Note that the Setup folder may be moved at any time.
The email provided with your initial -LIMS order included installation instructions and links for two download files. You will also find installation instructions in the Release Notes (Start | All Programs | LIMS | Release Notes). The first download file LIMS-400-Access2010Runtime.exe is a 250 MB file containing the Microsoft Access 2010 Runtime files used by the LIMS installation software. Following the installation instructions, this file must be run first which will create the "runtime" folder within the Setup folder. The executable files within the runtime folder should not be run manually. The image below shows the contents of the runtime folder within the Setup folder.

The second download file with a name in the form LIMS-400-AAANNN-YYYY-MM-DD.exe is a 15 MB file with the remaining files required for your LIMS installation. This file, which will add all remaining files in the Setup folder, will launch the LIMS installation software and should only be run after file LIMS-400-Access2010Runtime.exe has created the runtime folder. Below is a list of the files and folders that must exist in your Setup folder.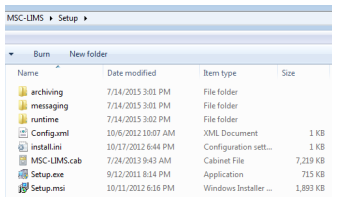 With the Setup folder and its runtime folder intact, running the application file Setup.exe in the Setup folder will update an existing LIMS installation or install the software on a new workstation. Similarly, running file Setup.exe in the archiving and messaging folders will install LIMS Archiving and LIMS Messaging, respectively.
In the Setup folder, file LIMS.cab is an archive containing the files required by the LIMS installation software. For annual subscription licensees, LIMS.cab includes your current subscription expiration date. To perform a subscription update you need only extract file LIMS.cab from the downloaded zip file, copy the file to the Setup folder replacing the existing file, then run Setup.exe in the Setup folder from each workstation to update the installation.
Full System licensees should keep a current copy of their LimsCode4.mde file in the Setup folder and use the options on the LimsCode tab of the System Configuration screen in LIMS to ensure all workstations are using the current version of the software.
Verify the location and ensure the contents of your LIMS Setup folder are correct and you will find installation repairs, new installations, and subscription updates simple, quick and painless.